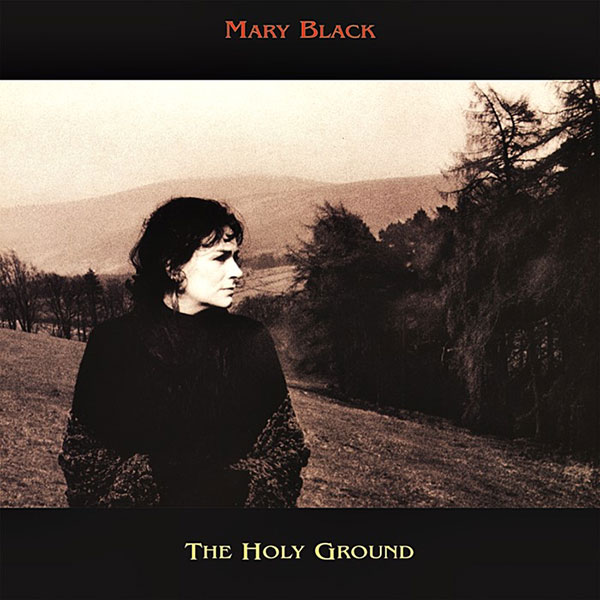 1993
Releases
LP
Pure Pleasure
PPAN 019
CD
Dara Records
DARACD 050
Reviews
Review of The Holy Ground by Malcolm Steward
The opening song, Summer Sent You, is so uplifting it's almost religious. With its uncomplicated lyrics, melody and arrangement you know that its emotional force comes from the metaphysical magic that links Mary and Noel Brazil. The impromptu whoop of joy after the final chorus tells you she loves singing this number! The Loving Time is another Brazil song, but this time that's darker hued, and more reflective. Nonetheless, Mary's sympathetic, effectual delivery of the lyrics brings out its underlying positive message.
There are two songs called The Holy Ground on this album, the first of which is a modern revoicing of a traditional songs, the second a new Gerry O'Beirne composition. Both show that while Mary has expanded her musical horizons she hasn't lost touch with her roots. Both songs remind you what a pleasure it is to hear Mary's voice with minimal accompaniment. However, John Gorka's Treasure Island, which separates these two songs presents a convincing defence for Declan Sinnott's more adventurous, contemporary arrangements. Then comes the cover of Sandy Denny's One Way Donkey Ride, another song that's effectively unadorned but, as we've come to expect from Mary and the band, no less chilling or potent.
However, my vote for the album's high spot, goes to Dockland. For me, this song, with its electric, relaxed but rocky feel, comes together like no other. You can take it apart, scour its structure with a microscope and still not find one tiny element that isn't perfectly judged - Garvan Gallagher's insistent bass line, Declan Sinnott's tastefull, economic guitar, Carl Geraghty's ethereal sax, Pat Crowley's ever dependable piano, Dave Early's persuasive drumming and Frank Gallagher's carefully measured synth lines. Mary's confident, commanding singing matches the band's dynamic swings blow for blow, creating a wall of sound that's subtle but dauntingly mighty. The four-de-force performance does full justice to Noel Brazil's superbly crafted lyrics.
So has the Mary Black Band finally explored all possible directions now that its fifth album has nearly reached its conclusion? Poison Words, the closing song suggests not. Mary singing accompanied by Declan on acoustic guitar is nothing unusual but the contribution from the Vanbrugh String Quartet is. Their playing adds another fascinating - and entirely congruous - dimension to the song.
If you're looking for a one-word description to sum up this album, "subtle" is a strong contender. The drama and passion of The Holy Ground are often tucked away below its surface, They're not as immediatly apparent as they are in No Frontiers but they're there all the same, tugging your emotional trigger just as effectively.
Malcolm Steward is an award-winning British hi-fi journalist, music critic and self-professed champion of home-grown musical talent. He finds it ironic that he first heard a Mary Black disc while at a convention in Chicago.