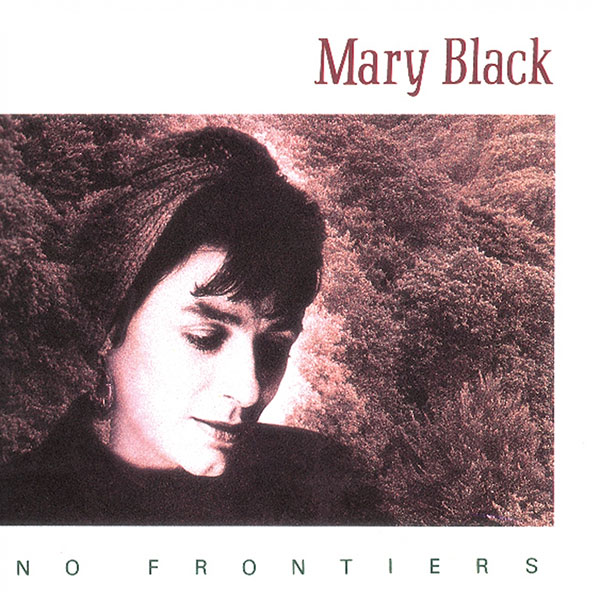 1989
Releases
CD
Dara Records
DARACD 032
LP
Pure Pleasure
PPAN 016
Reviews
Review of No Frontiers by Malcolm Steward
No Frontiers begins this album, which was for some thime her most powerful statement. I wouldn't argue with anyone who said it still was, such is its impact and potency. The way in which the title track's delicate introduction gives way to Garvan Gallagher's positive statements on the bass tells you that for the next forty-two minutes your emotions are going on a thrills and spills roller coaster ride. As the song develops you can hear the determination growing in Mary's voice...
Mick Hanly's Past The Point Of Rescue winds up the tempo, its jaunty rhythm and melody lulling you into a false sense of security where you think that there's no real drama waiting round the corner. Then Donagh Long's The Shadow issues from the speakers, slamming on the rhythmic brakes, Mary's impassioned voice and Pat Crowley's piano threatening to loosen your grip on the safety rail.
Carolina Rua plummets you quickly downhill, its light-hearted mien and pop-tinged melody bringing a smile of relief to your lips. It puts you back on an even keel for a mid-tempo cruise before you reach Jimmy McCarthy's Shuffle Of The Buckled. Now is the time to take a breath and enjoy some of his typical intricacy. Then the bombshell hits as Mary and her band drift into another of the live set's high spots, Noel Brazil's spine-tingling Columbus. This was the song that first brought Mary to my notice and I'll admit to a special, abiding affection for it. That doesn't, however, influence my opinion that this song and Mary's performance of it - live or on disc - are anything less than truly stunning. Garvan Gallagher's Clevinger bass line unsettles you physically by regulary plunging through the floor, sounding like a baritone wail from a wounded animal, while Mary's haunting vocal chills your emotions and senses by evoking fears that anyone might harbour. If we're using the roller coaster analogy, this song is the point in the ride where your stomach comes into your mouth. Disconcerting but delicious, dynamic and achingly beautiful, all at the same time.
Jimmy McCarthy's optimistic Another Day steadies you for a moment until you reach Fat Valley Of Pain, another striking, thought-provoking song that showcases Noel Brazil's poetic use of language. Mary's voice, as pure as ever, flirts with Declan's abrupt, choked guitar chords and the sinuous Garvan Gallagher bass line that roots this fragile song firmly to the ground.
I Say A Little Prayer - yeah, the Aretha Franklin number - it this album's audacious cover and - no surprises - Mary handles it as though it had been written solely with her in mind. As she's done before, she takes a classic, leaves its integrity perfectly intact, yet brings to it her own, unique personalising touch. As elsewhere on this album, Declan Sinnott's flawless production allows the song limitless room the breathe.
The album closes in typically powerful style with a plaintive Thom Moore song The Fog In Monterey. The roller coaster ride is over and you're drifting in neutral, exhausted but exhilarated, back to the starting point. Anyone want to go round again?
Malcolm Steward is an award-winning British hi-fi journalist, music critic and self-professed champion of home-grown musical talent. He finds it ironic that he first heard a Mary Black disc while at a convention in Chicago.