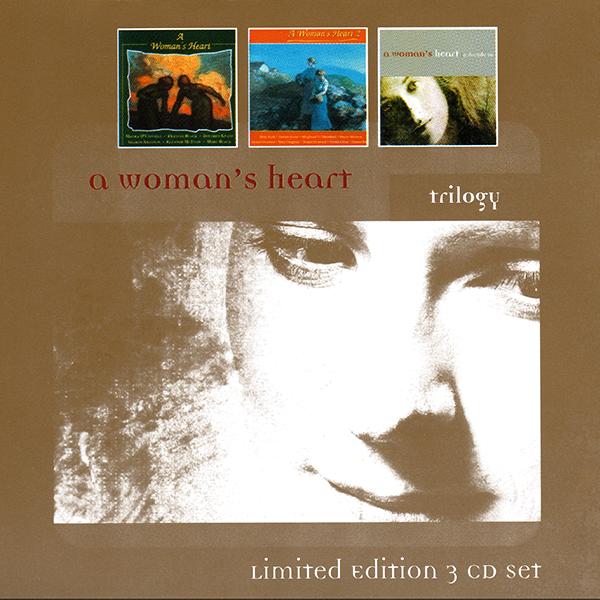 2003
A Woman's Heart - Trilogy (Limited Edition)
Remarks
This limited edition 3 CD boxset contains all three Woman's Heart albums:
Reviews
Review of A Woman's Heart Trilogy by Siobhan Long
Music has always been key to much of our identity. Although we like to think of ourselves as natural born literary geniuses, the tug of the reel, the jig and the hornpipe has always been hard to resist. And we've often chosen songs to tell our stories, share our sorrows, celebrate our victories. In fact, song tales have long navigated a path back and forth across the North Sea, the Atlantic and the Pacific, often returning metamorphosed into shapes virtually unrecognisable, courtesy of their cross-fertilisation by other cultures, other voices.
Curiously though - or perhaps not, given the male dominance of the twin pursuits of (his)tory and politics in this country – women's role in singing and storytelling has been undervalued and under estimated. Nuala O'Connor's re-tracing of Irish songlines in the encyclopaedic Bringing It All Back Home refocused the spotlight on the role of singers such as Sara Makem, Rita and Sarah Keane in passing the stories on, investing in them emotionally in a way that the words held their own alongside and within the tune.
The early 90's was a fertile breeding ground in which to foster and cosset songs and stories. It was a happy collision of serendipity and common sense that led to the recording of A Woman's Heart. What started out as a simple Dara Records folk compilation evolved into an all-female collection of songs and singers. Mary Black's desire to include a track from a young, and then largely unknown singer by the name of Eleanor McEvoy not only provided the project with a title track, but helped define the essence of the collection: a gathering of women musicians, representative of the cross currents of the Irish folk and traditional music scene at the time: a virtual snapshot in time, a freeze-frame that distilled the music to its essence.
It was a select congregation: Dolores Keane, Mary Black, Frances Black, Eleanor McEvoy and Maura O'Connell were kept company by the sole instrumentalist in the pack, one Sharon Shannon, accordion-meister beyond compare. It was a heady mix of the political ('Living In These Troubled Times', 'The Island'), the romantic/historical ('Caledonia', 'Sonny') and the unapologetically love-scarred ('Wall Of Tears' and 'Vanities'), all wrapped up in the delicious exoticism of Shannon's Portuguese 'Coridinio'.
A Woman's Heart 2 burst on to the stage some two years later, in 1994, fired by new arrivals including the two Sinéads, Lohan and O'Connor, Mary Coughlan and Maighread Ní Dhomhnaill. This time round their repertoire had expanded to embrace Lohan's refreshingly evocative songwriting ('Sailing By'), Coughlan's characteristically laid back vocals (complemented by Kirsty McColl) on 'Invisible', Maighread Ní Dhomhnaill's glass-shattering reading of the traditional cautionary tale, 'A Mháithrín Dhíleas' and the politically and emotionally-charged 'Three Babies' from Sinéad O'Connor. Looking back on the gloriously eclectic gathering of songs and tunes, one can see that WH2 was in fact a timely barometer of a changing Ireland – a place in which a climate of openness and conciliation was promoted both by this country's women recording artists, and by an increasingly demanding (and informed) listenership.
A decade on heralded another time, another place, and another century. And the release of A Woman's Heart – A Decade On reflected those changing times in its landscape and its line-up. At a time when Ireland was chafing to come to terms with multiculturalism, having to square off its willingness to export not only its labour but its so-called 'problems' to foreign lands, with an unprecedented turning of the emigration tide, so too the music began to reflect a more complex palette: a richer territory was there to be mined, and A Woman's Heart - A Decade On embraced the diversity with relish.
And so the stage expanded even further. Juliet Turner and Cara Dillon contributed two vastly divergent Northern strands; Turner lending the blackly humourous 'Sorry To Say', while Dillon brought her bare naked vocals to the traditional 'The Lark In The Clear Air'. Mary Coughlan's free-spiritedness was matched by The Café Orchestra on the aptly titled 'Wild And Free', Dolores Keane and Tommy Sands bravely tackled the Pete Seeger standard, 'Where Have All The Flowers Gone', and made it their own, and Altan's Mairéad Ní Mhaonaigh teamed up with Dolly Parton on the American traditional 'In The Sweet By And By'. And to top it all, Alison Krauss, fresh from the underground success of the O Brother Where Art Thou? soundtrack, wisely leant 'Down In The River To Pray', a gospel song sitting effortlessly within an Irish, Appalachian and British song cycle that stretched its lithe frame across boundaries with the confidence of one well-versed in the fine art of multi-lingualism.
And somewhere, yes, somewhere lurking within was a re-interpretation of the song that christened the entire adventure a decade earlier. This time round, Emmylou Harris sidled up alongside Mary Black to embellish the gene pool and renew its energies.
Three albums, 47 songs and tunes, and a plethora of X chromosomes the driving force. Not a bad way to strike a balance…
Siobhan Long